CAT Neck Light

Product Overview
The innovative and sporty design of the CT7100 leaves you hands-free to work anywhere without irritation or stress to your forehead. Made of a durable and trustworthy ABS and nylon blend, it comfortably rests on your neck without leaving sweat marks and is easily cleaned. Whether you prefer the lowest (100 Lumens) or highest (200 Lumens) setting, this light adjusts to your power needs. Pivot the light heads up to 90 deg to create a wider beam. The neck light's IPX4 rating means you can be sure your light stays on even when you are soaking in the rain. Indispensable for working in the garage or on a project in the house. Have it ready to walk the dog or for when the power goes out. Pack it with the camping essentials. You will never run out of applications this light is perfect for.
Why not stop by Frank Burton and Sons for this CAT Neck Light.

Features
Operate each light head independently
Light heads pivot up and down 90 deg
Wear around neck for hands-free use
High/low/off power switch
Sleek design is more comfortable than conventional headlamps
Water and impact-resistant
Dimensions: 
8.7 in H x 5.3 in W x 0.91 in D
Includes: 
(2) AA Batteries
Material: 
ABS Plastic/Nylon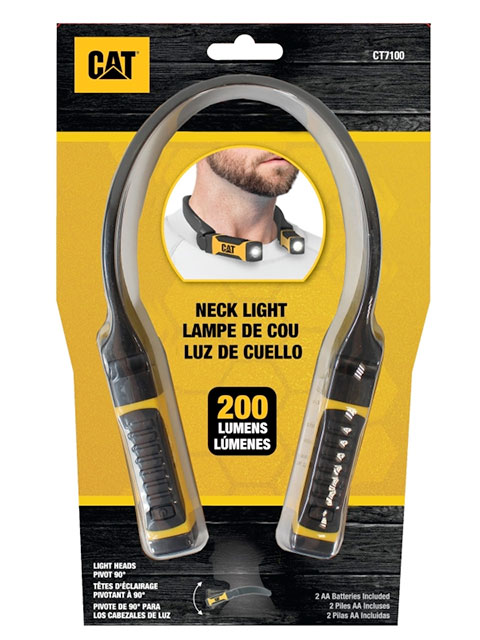 Please stop by our beautiful showroom and see all of our products and services available, including bath vanities, kitchen cabinets, MOEN Faucets, and much more.  You can also speak with one of our friendly, knowledgeable staff about your current or future project.
Or, just come by for some great gift ideas, pickup some hardware, paint, plumbing supplies, tools, and more!
Thanks and we look forward to seeing you!

CAT Neck Light
Frank Burton and Sons is located at 333 West Broad Street, Bridgeton, NJ 08302
Our phone number is 856-455-1202
Want more information about a product? Contact us here.