Holiday Gift Idea No. 6  from Frank Burton & Sons  Milwaukee 49-22-1110 Reciprocating Saw Blade Set

This gift would make another great stocking stuffer, why not stop by Frank Burton and Sons for this holiday gift idea No. 6.   It's a Milwaukee 49-22-1110 Reciprocating Saw Blade Set, The 10-piece Sawzall® blade set offers an assortment of wood and metal cutting Sawzall® blades for a wide range of applications. Milwaukee Sawzall® blades feature an optimized tooth design that provide a longer life over standard bi-metal blades and are ideal for fast, flexible cuts. The set also includes an innovative job site durable case for convenient blade storage.
Sale ends 12/31/21 or until supplies last.
Stay tuned for more holiday gift ideas.

Features
The FANG TIP™ design bites into wood on first contact for faster plunging
NAIL GUARD™ combines an aggressive 5 TPI pattern for faster cutting, with a unique design that protects against tooth fractures
Precision forming process creates sharper teeth for fast cutting
Double relief angle reduces tooth stress for long life
Jobsite durable storage case adjusts to hold up to 9 in blades
Matrix II bi-metal teeth for greater durability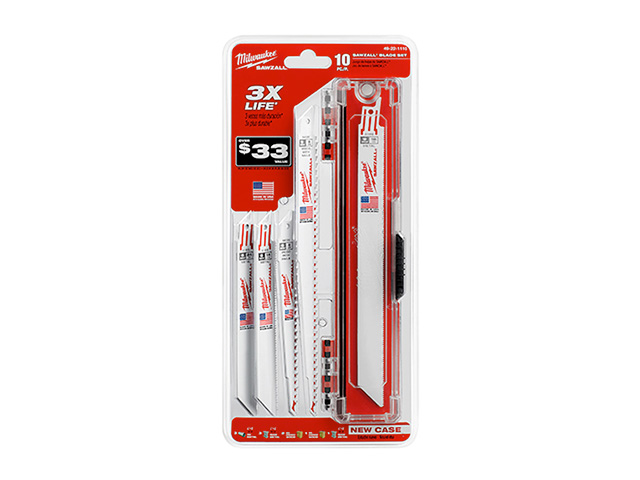 Stop by our beautiful showroom and see all the bath vanities, kitchen cabinets, and speak with one of our friendly, knowledgeable staff about your project.  Or, just come by for some great gift ideas, pickup some hardware, paint, plumbing supplies, tools, and much more!
Thanks!

Holiday Gift Idea No. 6
Frank Burton and Sons is located at 333 West Broad Street, Bridgeton, NJ 08302
Our phone number is 856-455-1202
Want more information about a product? Contact us here.