Sign up for a chance to win a KNIPEX Pliers!

KNIPEX Cobra®

High-Tech Water Pump Pliers, (

87 01 250) valued at $33.99.

Sign up below for our Burton's Blast email newsletter and have your name put into a drawing to win the KNIPEX Cobra® High-Tech Water Pump Pliers from Frank Burton & Sons. One lucky person picked randomly from the Burton's Blasts email sign-ups will receive the tool.
PRODUCT OVERVIEW
The benefits of working with the Knipex Cobra are plain to see: these water pump pliers are light and stable, can be adjusted on the component quickly at the touch of a button, and are self-locking on pipes and nuts.
For pipes, nuts, sleeves, for various kinds of components: the professional user applies the Knipex Cobra quickly and accurately with just one hand movement. The spring-loaded hinge bolt locks securely into place without adjusting inadvertently. Thanks to the 25-fold fine adjustment, the Cobra can be ideally adjusted to different sizes of the component. This fine adjustment also makes sure that the distance to the handles remains hand-friendly for every grip width.
PRODUCT DETAILS

• Push the button for adjustment on the workpiece
• Fine adjustment for optimum adaptation to different sizes of workpieces and a comfortable handle width
• Self-locking on pipes and nuts: no slipping on the workpiece and low handforce required
• Gripping surfaces with special hardened teeth, teeth hardness approx. 61 HRC: high wear resistance and stable gripping
• Box-joint design for high stability due to double guide
• Reliable catching of the hinge bolt: no unintentional shifting
• Pinch guard prevents operators' fingers from being pinched
• Chrome vanadium electric steel, forged, multi-stage oil-hardened
Sign up for our email newsletter Burton's Blasts (SEE BELOW) for a chance to win this KNIPEX® pliers.  Thanks!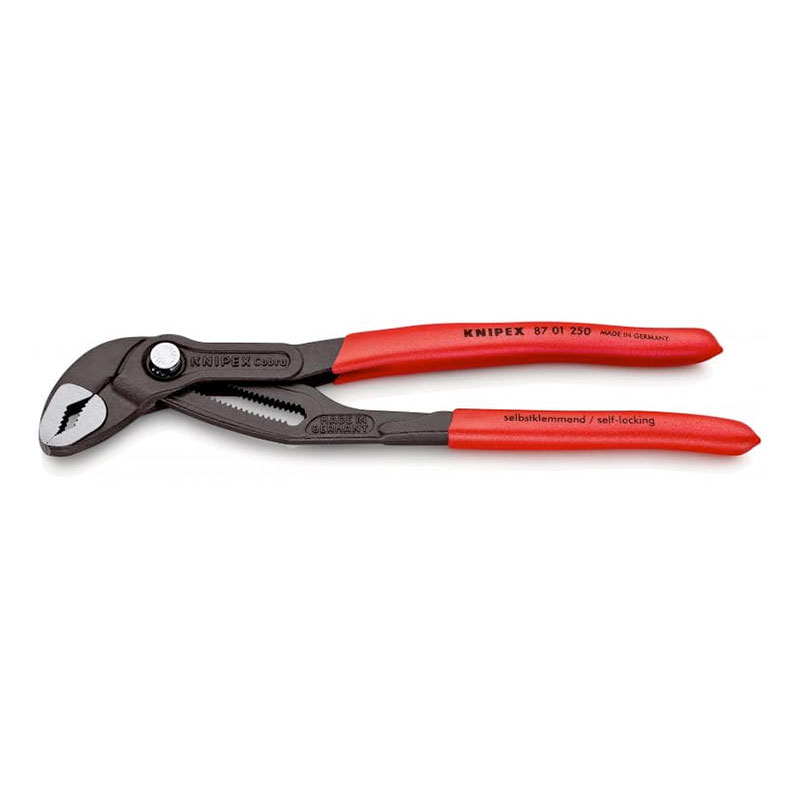 We invite you to stop by our beautiful showroom to see all of our products and learn about all our services available. Products include bath vanities, kitchen cabinets, MOEN Faucets, and much more in stock. You can also speak with one of our friendly, knowledgeable staff about your current or future project. Or just come by for some great gift ideas or to pick up some hardware, paint, plumbing supplies, tools, and more!
Don't forget to sign up for Burton's Blasts newsletter!

Sign up for a chance to win a KNIPEX Pliers
Frank Burton & Sons
Frank Burton & Sons is located at 333 West Broad Street, Bridgeton, NJ 08302
Our phone number is 856-455-1202